It seems I'm back on track with playing WoGE, although not always successful. (For a description what this is, see below the fold. Previous WoGEs are collected on Felix Bossert's blog and in Ron Schott's KML.)
But this time I was lucky and found Felix Bossert's remake of WoGE 122, a close-up view of dunes in the Apure River region of Venezuela – now called WoGE 273. I think I only had a chance because the accidental double-post prevented both Ron Schott and Péter Luffi from taking part.
The last WoGE was quite like a painting, and so I want to continue with nice-looking images. Is this a close view of a metamorphic rock? Who knows…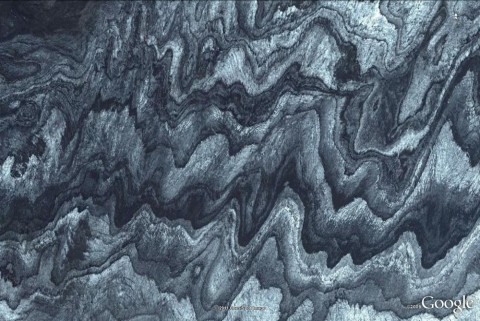 For any new players to Where on (Google) Earth, simply post a comment with latitude and longitude and write something about the (geologic) feature in the picture. If you win, you get to host the next one.
I'm not sure if this is easy or not. To be on the safe side, I invoke Schott's Rule: former winners have to wait until posting for 1 hour for each WoGE they got right. I will post some hints (e.g. a scale bar) if there is no answer after some time.
Posted on 10 March, 21:00 CET (20:00 UTC).
Have fun and good luck!