Eines der schwersten (zumindest am längsten ungelösten) WoGE-Rätsel war Péters schöner Einblick in die präkambrischen/proterozoischen Teile der Südamerikanischen Platform. Es hat mir bewußt gemacht, wie beschämend wenig ich über diesen Kontinent weiß – im Prinzip nichts außer den Anden.
Hoffentlich haben die Leute WoGE nicht komplett aufgegeben nach dieser langen Pause. Für die, die es noch ausgehalten haben, gibt es nun das neue Rätsel: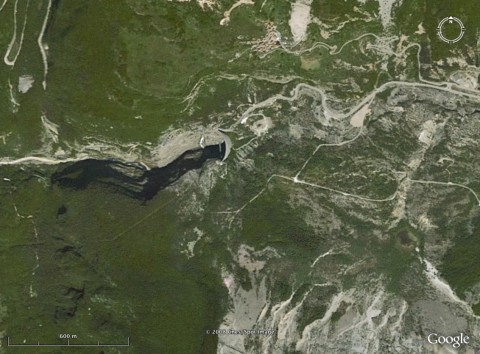 For any new players to Where on (Google) Earth, simply post a comment with latitude and longitude (or a description of the location) and write something about what the features in the picture are, or how they have developed. If you win, you get to host the next one.
I invoke Schott's Rule: former winners have to wait 1 hour for each WoGE they got right.
Posting time is 19:25 CEST (17:25 UTC).
Good luck!